We have brought you a lot of information about many tourist places around Badulla. Among them were various places such as waterfalls, mountains, etc. In this article, we are ready to tell you about one of the must-visit places for tourists visiting Badulla. This post is about a waterfall. This waterfall is one of the most visited waterfalls in Sri Lanka. You can see that there are a lot of tourists here not only on weekends but also on weekdays. This waterfall is so popular that it is called "Dunhida Falls".
Let's go to the beautiful rainbow waterfall
The road to Dunhinda Falls is not difficult. There is a large nameplate near the Badulla main road. There is no difficulty in identifying that place. You will have to walk the rest of the way from that reception area. Along the way, you will find a variety of delicious local food stalls. They have a variety of delicious drinks and food. As you go through all of this, you will gradually hear the sound of a waterfall. Listen to it all and move on. Then you will find a big stage. In front of that stage is the waterfall we praise.
Enjoy the beauty of one of the most beautiful tourist sites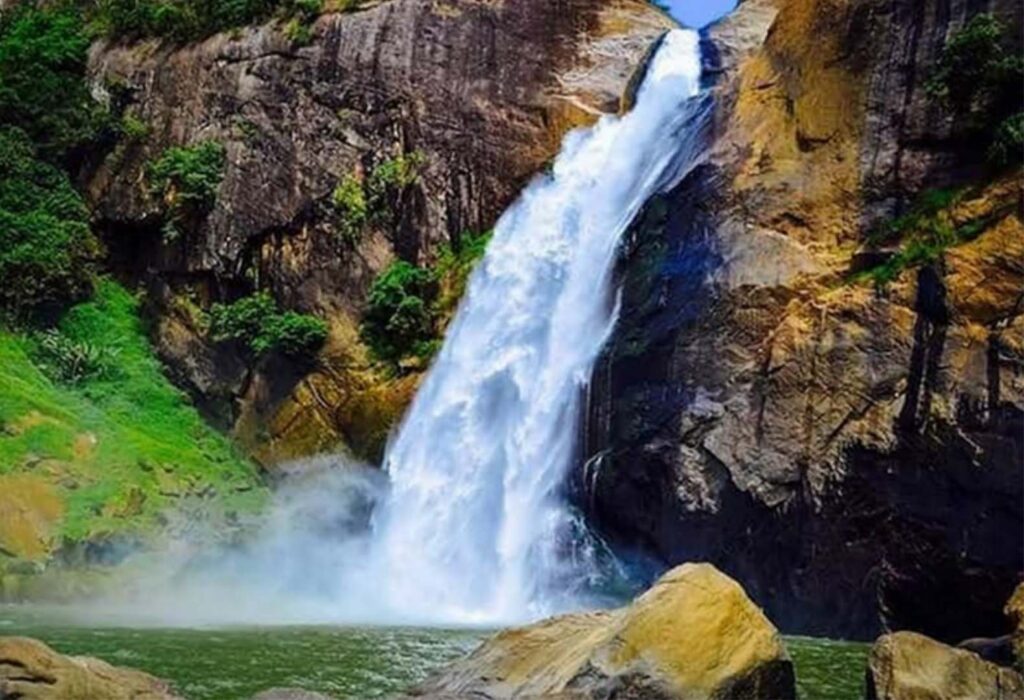 This place is located in the jungle so the tourist will have a more pleasant experience. You will have the opportunity to see different animals. monkeys, various birds, and butterflies can be seen in this place. You will also find a variety of plants at this place. Large trees, as well as small plants, have taken the surrounding environment to the highest level of beauty. The waterfall is just as amazing. This waterfall cascades down, adding a great mist to the surrounding environment. A very beautiful and breathtaking waterfall. You can look at it for hours. No matter how long it takes, you will not feel any fatigue.
This waterfall is named "Dunhinda". "Dun" means smoke. The waterfall gets its name from the fact that it adds a lot of mist to the surrounding environment. The name is derived from the misty waterfall. The water of this waterfall comes from the confluence of small rivers called the Uma and Hal rivers. The stream that flows through the waterfall thus begins to make the valleys below self-sufficient.
For special attention
Be very careful when approaching the waterfall.
Be careful when dealing with animals near the waterfall.
Do not contribute to the destruction of the environment.
You can walk to the foot of this beautiful waterfall.  But it was a rather risky journey.  You must ensure your safety.  This place is so beautiful that so many songs have been written locally about this waterfall.  That is why this is a place we must protect.  We hope that you who visit this place will protect this place.  This place needs to be protected 
Photocredit - visitella.com