The mountains of Sri Lanka are full of beautiful places.  In the past, foreign planters who came to Sri Lanka built their houses and bungalows in these beautiful places.  That's because they loved this beautiful environment.  They have not forgotten to enjoy this environment as much as their plantation activities.  That is why they still have memories of the places where they lived.  Adisham Bungalow, Liptons Seat are the main ones.  These are just a few of the must-visit places in Badulla.  The Liptons Seat is one of them.  This place is popular as a very beautiful tourist destination.  That is why tourists are often seen here.
Route
This place can be reached by two routes with beautiful tea plantations.  A very peaceful environment you can definitely see here.  There are 2 ways to reach this place.  One of the roads passes through Haputale.  You can reach the Liptons Seat via the Dambathanne estate in Haputale.  Or there is another way.  It passes through Bandarawela.  You can reach this place through the NayaBedda Estate in Bandarawela.  Travelers will have to climb about 7km from this place.  You will not feel any fatigue on this journey just because of the beauty of these routes
The Past Story of the Liptons Seat
During the period when Sri Lanka was a colony, a large number of foreign planters came to Sri Lanka.  They mainly targeted mountainous areas.  Accordingly, they used these areas extensively for the tea industry.  Sir Thomas Lipton is one of the most famous planters who came to Sri Lanka.  He started his plantation industry mainly based in the Haputale area.  It is said that during his stay in this area he used a seat on a mountain top to see the beauty of the environment.  That seat is called Lipton's Seat.  Many tourists still visit this place from there to enjoy the beauty of the environment.
Liptons Seat The beauty of the environment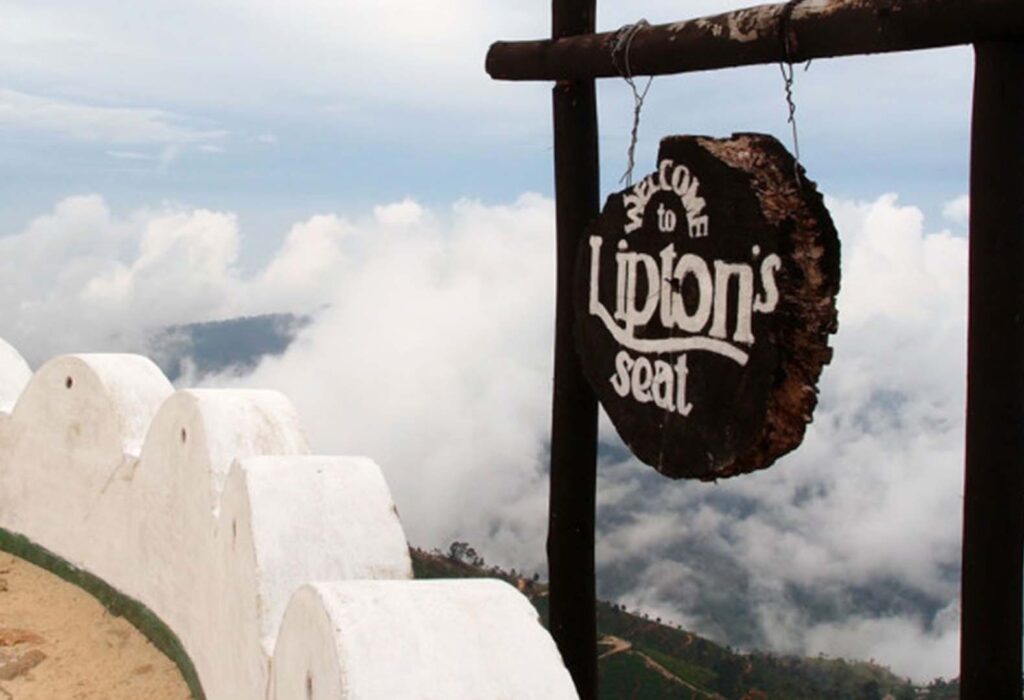 I need not tell you how beautiful the mountains of Sri Lanka are. Sri Lanka has become a major tourist destination due to its scenic beauty in the mountains. Liptons Seat is one of the best places to see that beauty. This place has a lot of key values. This place is very close to the town of Haputale in the central hills and you can see the Hambantota port. The port of Hambantota is located on the south coast. In addition, many valleys and mountains can be seen in this place. The green environment you see in between will bring freedom to your mind.
In addition, many people like to take photos with the statue of Thomas Lipton on Lipton's Seat.  Such photos are among the most popular in the world.  The statue of Mr. Thomas was erected in the same way he had observed the environment from that place in the past.
More places to see
If you visit this place you have a lot to see around here.  Among them are Ravana Falls, Little Adams Peak, and Ella Rock.  In addition, you can visit many other places related to Haputale.  So if you can stay in this area for a few days and see all these places then it is best.  We are confident that you will have a lot of experience in one of the world's leading tourist cities.  That is why you will love this area.