Places associated with the legend of Ravana can be seen in many places in Sri Lanka. Most of them are located near the beautiful Badulla – Bandarawela districts. It is said that this Badulla Panchi Siripada was also the location of the kingdom of the solutions. Meanwhile, a strange story that runs throughout the legend of Ravana is the concept of tunnels. Legend has it that there was a tunnel system that could pass through any part of the country during the reign of Ravana. Even today, the remnants of those tunnels can be seen in some places. Meanwhile, today the place called Nil Diya Pokuna has become very popular in terms of tourism.
How to visit Nil Diya Pokuna
After going about 6km from Ravana waterfall on the Ella Wellawaya road, after going about 2km on the mango plantation road to the south, you can reach the access roads. There are currently 2 access roads and one can walk through two holes in the ground to the tunnel below. As the road is very dark, torches should be used when going down into the tunnel. If you have a large stream of light, you can see the beauty in the tunnel very well.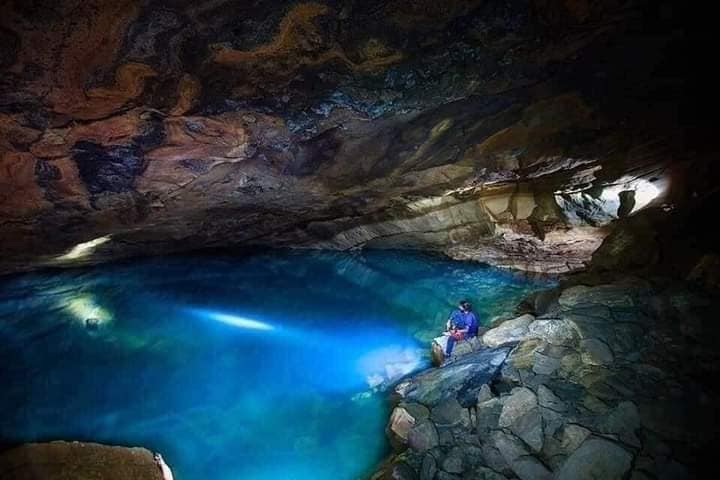 History stories and folk beliefs
The history of this tunnel is built with King Ravana, who is considered to be the greatest king as mentioned before. It is popularly believed that a tunnel builder named Chantu, who was in the history of Ravana, created tunnels that could travel quickly throughout the island. It is said that sometimes their waterways have been used and boats used to travel through them. Lubrication ports have been used here. Today, that tunnel is completely closed and one part of it can now be reached through a sinkhole in the ground. It is known as Nildiya Pond. The reason for the name Blue Water Pond is that the water at this place has a blue color due to its extremely pure water.
Environmental beauty
This must be the best place to get the most out of the beauty of an inner cave. Here you can see the rock changes including the patterns of the rock position on the ground floor while going down. The main beauty feature is the very clean water pool which is like a swimming pool. The rocky position around it also attracts the tourists who come there.
Remember that you go to the blue pond
This is a very risky journey inland. That is why traveling with a guide is important for your safety. Be very careful while stepping and even a small mistake can put your life in danger. It is a very clean source of water so you must be careful not to pollute it.